Morris is settling in, we had a few trips to the vets, due to an upset stomach and showings of blood still waiting on the results of the tests. He still has his limp, not able to sort that until his stomach is better as he reacted to medicine.
But he is a lovely friendly chap, and he is putting on weight!
Today has been the Easter Open Day fundraiser for the Derby Adoption Centre, and I was up there at 7:45am with my sister, so lots to get done. I had intended to take lots of photos but was too busy in the end, sorry!
I also got to have some cuddles from Billy, I actually cried when he came to me as he had been hiding from the staff. I spent some quality time with him. I have been told he will be moved to re homing section soon as he was having trouble after his dental!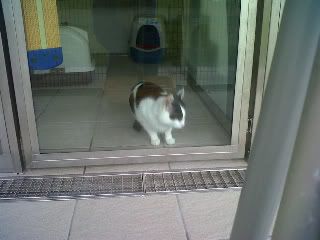 I was walking around with a Basket of Eggs,which you opened and had a slip of paper that some had the prizes on and some not! Also you can see my basket of prizes.
Just this basket raised £63, and I know we raised loads more on the Tombola, Raffles, Cakes, food, Books and Bric a brac and other stalls.
This is actually one of the two photos I took, the other has myself and my sister in it ( Me with my face painted like a bunny as I had on the ears and tail.) But I promised my sister I would not put her photo on here!